Wondering what classic women clothing styles to grab to stay ahead of fashion in 2020?
Clothing and accessories are the first love of women around the world. A stylish woman loves to update her wardrobe with the latest trends. However, searching for a perfect and up-to-date dress from the myriad of options is not always an easy deal.
Do you loves to modernize your wardrobe with the latest clothing?
Here are 17 hand-picked women clothing styles for 2020:
Highlighting Neons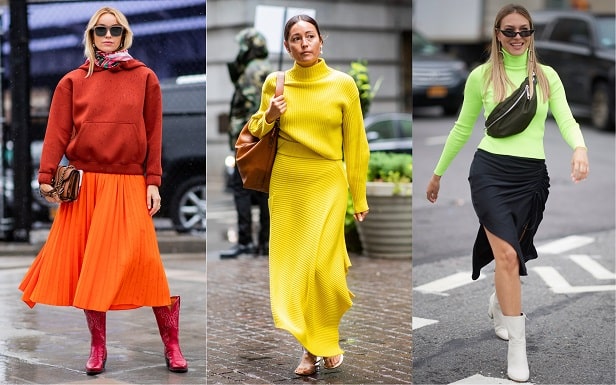 Those who love to stand out of the crowd cannot give a miss to highlighter trending for 2020. From fluorescent yellow to green, orange, blue and pink, the catwalk for this season has been ruled with the highlighter-inspired neons. From a striking neon maxi dress to a bold neon hue figure-hugging style, fluorescent colours successfully imbibe the much required dramatic style to your wardrobe.
The Disco Collar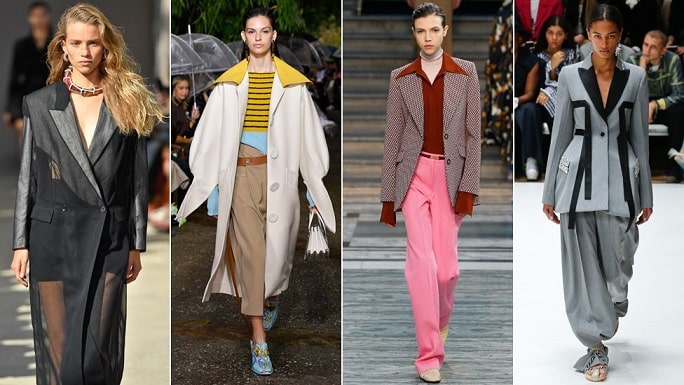 Disco collars made a wave in 2020! Yes, this broad collar trend has ruled the fashion ramps by making a surprised come back. Pick up the jackets, coats or button-downs with the disco collar to add a touch of modernity to your wardrobe. For an impactful look, you can choose jackets with a contrasting shirt and become a trendsetter for 2020. A leather trench coat with Disco collar is perfect for imbibing the Saturday fever.
Topless trends
You might have seen the female protagonists over your screens wearing a bra as their top. The designers believe it to be the trending women clothing style in 2020 where the tops have been specifically designed which resembles more a fashionable bra than a top. Explore the co-ord sets by Maryam Nassir Zahed and pair them under a contrasting blazer. Dabble the season with your hottest style and emerge as a style Diva!
Crochet in style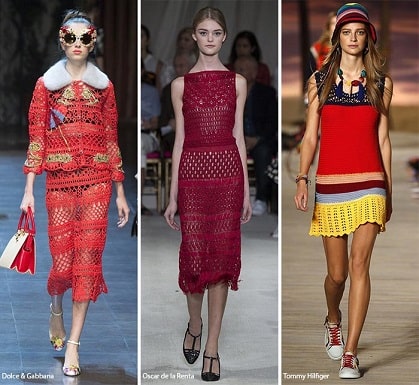 Crochet has always been ultra-feminine style which has hit 2020 with the touch of sophistication. The fashion industry is embracing the handmade techniques over mass production, giving crochet styles a lead. If you have treasured your Grandma's crochet, it's time to flaunt it with style and be the show-stopper. A midi-dress with a matching crochet cardigan or an entirely woven crochet sultry dress, the choice is all yours.
Puffy sleeves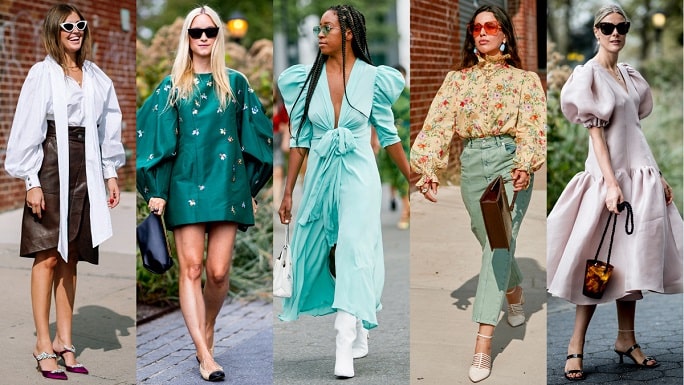 Those dramatic puffy sleeves are 'in' again which has once dominated the styles of Simone Rocha, Carolina Herrera, Emilia Wickstead and many more. Adding them to your party dress or a casual floral shirt paired with jeans is all you need to captivate the attention of fashionistas around. Add 'oomph' to your style with these voluminous and dramatic sleeves by your side.
How can you forget 'Polka'?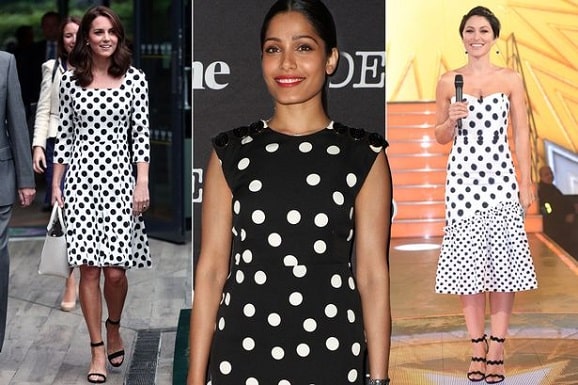 The never-fading polka style is making a swing in 2020 with its aesthetic looks. From a simple maxi skirt to a classy head feather tank top, polka dots are spelling its bound with its enchanting prints and embraced volumes. Pick up a graphic print dress for a spring wedding or a polka jumpsuit to get 'that' perfect street style.
Imbibe the tropical spirits
Is it always a mandate to go on a tropical vacation to try those fruit and nature-inspired prints? Well, the women clothing style in 2020 has ditched it and made its way to the casual, bold dresses to let you feel the island breeze with their exotic prints and style. The subway grades are dedicated to offering plenty of air coming in, to give you enjoy the beautiful spring in its way. Dolce & Gabbana, Marni and Versace have plenty of options to offer!
Sultry Slips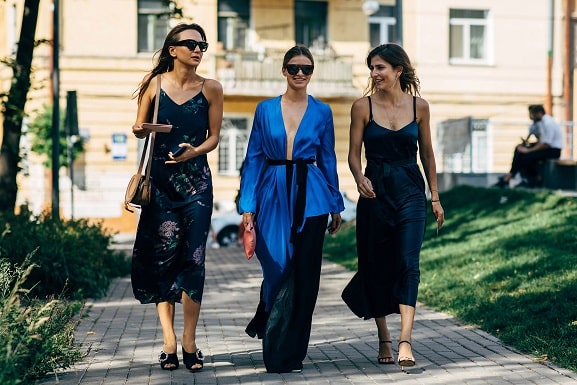 The women love slip dresses across the world for their sexy looks and comfy style. These everyday dresses are ruling 2020 with their sizzling styles, imbibing the chemise work, lace and mesmerizing colors in them. Nudes, soft pinks and whites are the fresh takes makes sultry slips a trending dress.
Classy Business Bermuda Suit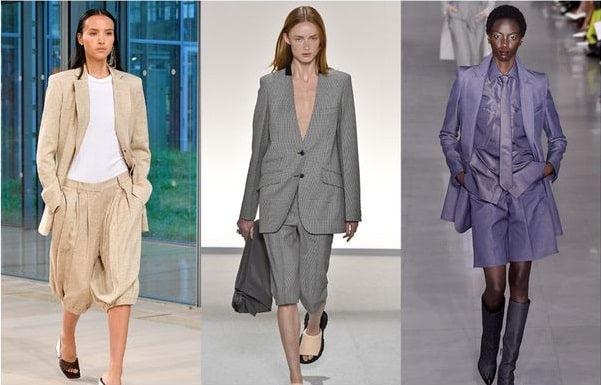 Are you surprised to see them on the list? Yes, you read it right! But here is the twist. A casual gal pairing the three-piece suit – waistcoat, blazer and shirt with Bermuda shorts is what makes 2020 hotter and unusual to the classic suit styles. The basics of coordinated and tailored suits are still the same. Whether short or extra long, the waistcoat is a must in these suits to maintain their ultimate sophistication.
Spot the tiers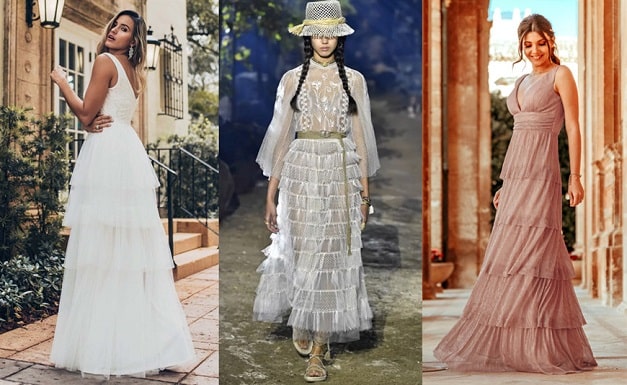 Inspired from basic gala gowns, the women clothing style in 2020 has highlighted the tiers in a more dramatic and voluminous way. With the maximum twirl ability, the ramp has witnessed the best of light tiered dresses in the hues of pink. Guess what? Dior and McQueen rule the season with their classic white and black. To pick up a versatile piece, go for Chanel's Maxi skirt or a ruffled –taffeta maxi shirt.
Fashionable 'birdie.'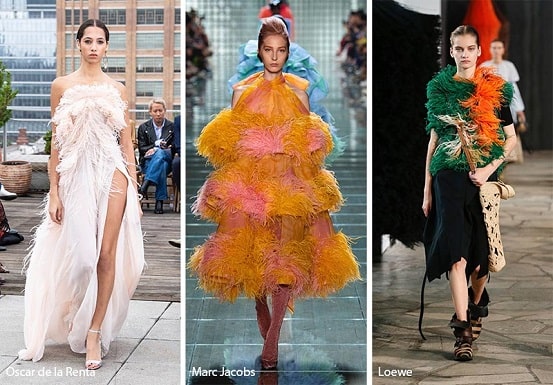 They say 'the bird of feather flock together', and women clothing style in 2020 has adopted it for the fashionistas with its utter bold feathered frocks replacing the little black dress to make your evenings daring and enthusiastic. Light as air, you can go for the feather tops from Atttico, Burberry, Valentino and many more. Paring them with a fresh pair of jeans will let you get-set-go with your style. How about picking up an offset glam feather top with a pair of printed jeans?
Leather has extended its 'wings' to spring.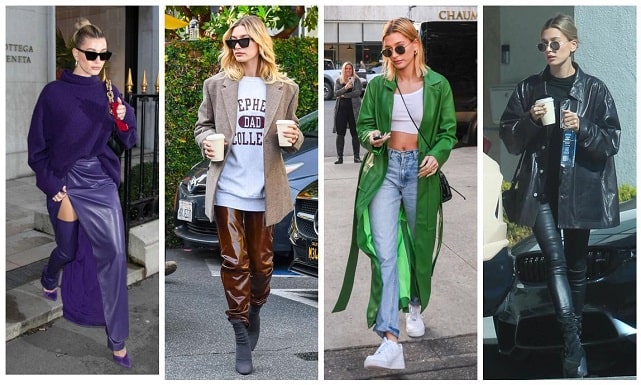 Recognized as strictly for winter leather has made it a place to spring 2020 with its authentic styles. From colorful jackets to captivating pants and skirt, the New York runway has witnessed the classic leather to be fusion in women clothing styles for 2020. From a bright leather jacket or leather skirt iteration to the floral printed beautiful leather skirt, there are ways to nail it right!
Tubes making a 'U' turn
The fashion-freaks always love tube tops for its oh-so-girlie style. Whether paired with a long leather skirt or a hot pant, tube tops are the nostalgia from the '90s which can be worn in any season. Style it over the sweater when the temperature drops and start sizzling with the climate by wearing it them with a matching Bermuda to showcase your sensual style.
Suede is the next big thing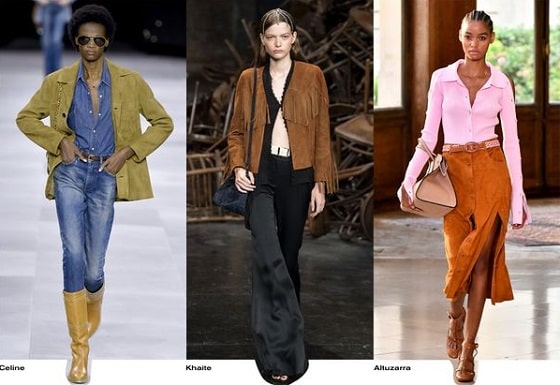 The style of 70s is back with the bang! Suede has made its way to jackets, and other outerwear pieces with a triumphant return. Check out the Altuatta's midi swede skirts or hot pants co-ord sets from Longchanp to discover the 'happening' fashion lingua of 2020. How about a sweet-heart-neckline floral-print dress paired with the suede shoes?
Bucket hats with pastel hues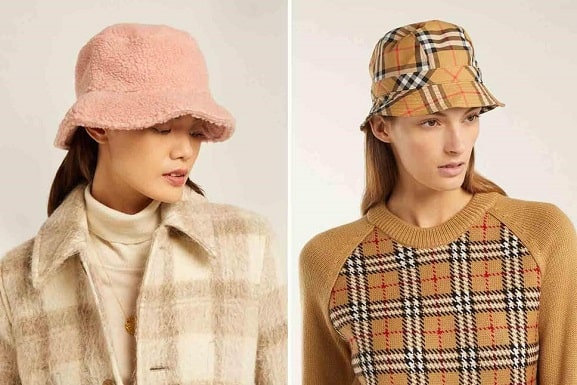 Block the sun and your style together with the chunky pastel hats and go versatile with your fashion sense. From light beige to lemony-lime, the soothing colors are the timeless options for 2020. This cute and trendy accessory is must-have to add an impressive look to your wardrobe. Outshine like a fashion Diva with a pastel bucket hat like never before!
Plenty of 'pleats.'

Pleats-all-over is another hottest trend for women clothing styles in 2020 for its versatile looks and eye-catchy style. A one-shoulder pleated gown, a leopard print pleated skirt or an adorable pleated pastel full sleeves shirt, with the plenty of options to incorporate pleat-style in your wardrobe, you will be all set to rule the fashion street.
One-stop Jumpsuits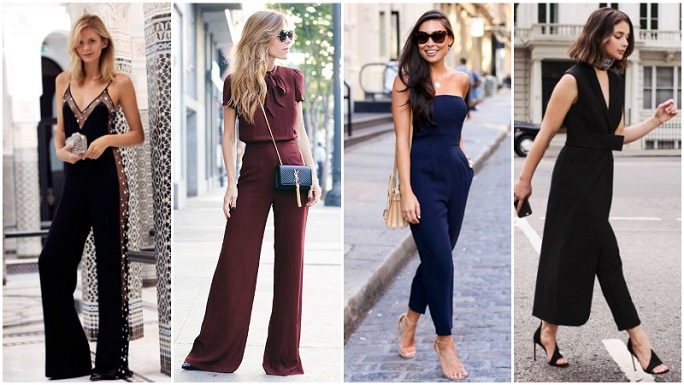 Jumpsuits are always adored for their superb style and comforting vibes. This 'evergreen' outfit has made its place as 'perfect' women clothing style even in 2020 to dress up a woman up to down beautifully. From dark denim version to the pastel blue jumpsuit, the choice is all yours. Choosing this one-stop-shop looks will fetch you applause for your commendable style.
So, what is your 'ultimate' style for 2020? Leave the comments below!